In Part 1, we looked at branding and business systems. In Part 2, we focused on the market for your product or service, and financial modelling for the franchisor and the franchisee.
In this article we look at growth strategy and timing if you are considering franchising your business.
What is a growth strategy?
A growth strategy is quite simply what it suggests, the strategy you use to grow your business. Franchising is a growth strategy.
Other growth strategies include corporate growth, licensing, distribution and agency.
A corporate growth strategy is where you finance and open multiple sites under your brand. The every day operation of the multiple sites is the corporation's responsibility.
Corporate growth requires significant financial and human resources. For this reason, corporate growth is not considered to be a fast growth strategy.
A distribution growth strategy is where a manufacturer sells its products to a distributor at wholesale prices for resale.
An agency is where an agent sells your products on your behalf under your brand. In return you pay the agent commission.
Licensing is where you licence someone to use your trade mark or product (for example under a software licence agreement the user is given permission to use the software on certain terms and conditions).
Every franchise agreement is a licence agreement, but not every licence agreement is a franchise agreement.
If you use distribution, agency or licensing as a growth strategy you need to be careful not to franchise by accident.
Which growth strategy is right for your business depends on a number of factors.
Often, entrepreneurs will use more than one growth strategy. For example, a franchisor may use a combination of a corporate growth strategy and franchising to grow the business and the brand. In this scenario, corporate sites are operated by "head office", while franchise sites are operated by franchisees.
The combination of corporate and franchise sites may depend on whether you want fast growth and consequently fast brand penetration, or whether steady growth is the better model for your business.
Fast Growth
In Part 2 we considered the market for your product or service and the sustainability of that market.
If you have a good or service which is unique or is new to the market, you may aim for fast growth in order to capitalise on being first to the market. Fast growth will enable you to establish your brand in relation to that product or service before competitors attempt to replicate your good or service.
One of the advantages of franchising is that it allows you to grow your brand quickly, because you are not constrained by either financial or human resources.
For example, if your goal is to open 10 locations in the next 12 months, each costing $300,000.00, you would need to find $3,000,000.00 plus working capital to grow the business through a corporate growth strategy. In addition, you would need to find employees to operate and manage locations.
If you franchise your business each individual franchisee will contribute the financial and human resources to find, open and operate a new site.
While there are still costs involved in the setting up of the franchise system (including the development of operating manuals, marketing materials and legal documents), the costs are far less than those required for a corporate growth strategy.
Steady Growth
If fast growth is not best for your business, you may choose to open a number of corporate sites to generate cash flow. You may also wish to perfect your systems and build your brand before you franchise your business.
The success of franchisees is what will drive a successful franchise. If franchisees are successful, others will want to buy franchises.
In some circumstances, you may want to test different locations, to ensure that the concept works for different demographics.
Business owners can sometimes find that a second location has not performed as well as the first location, for no obvious reason. The information gained from opening a second (and possibly third) location assists in refining the concept.
Once the concept is refined you can then focus on franchising that concept.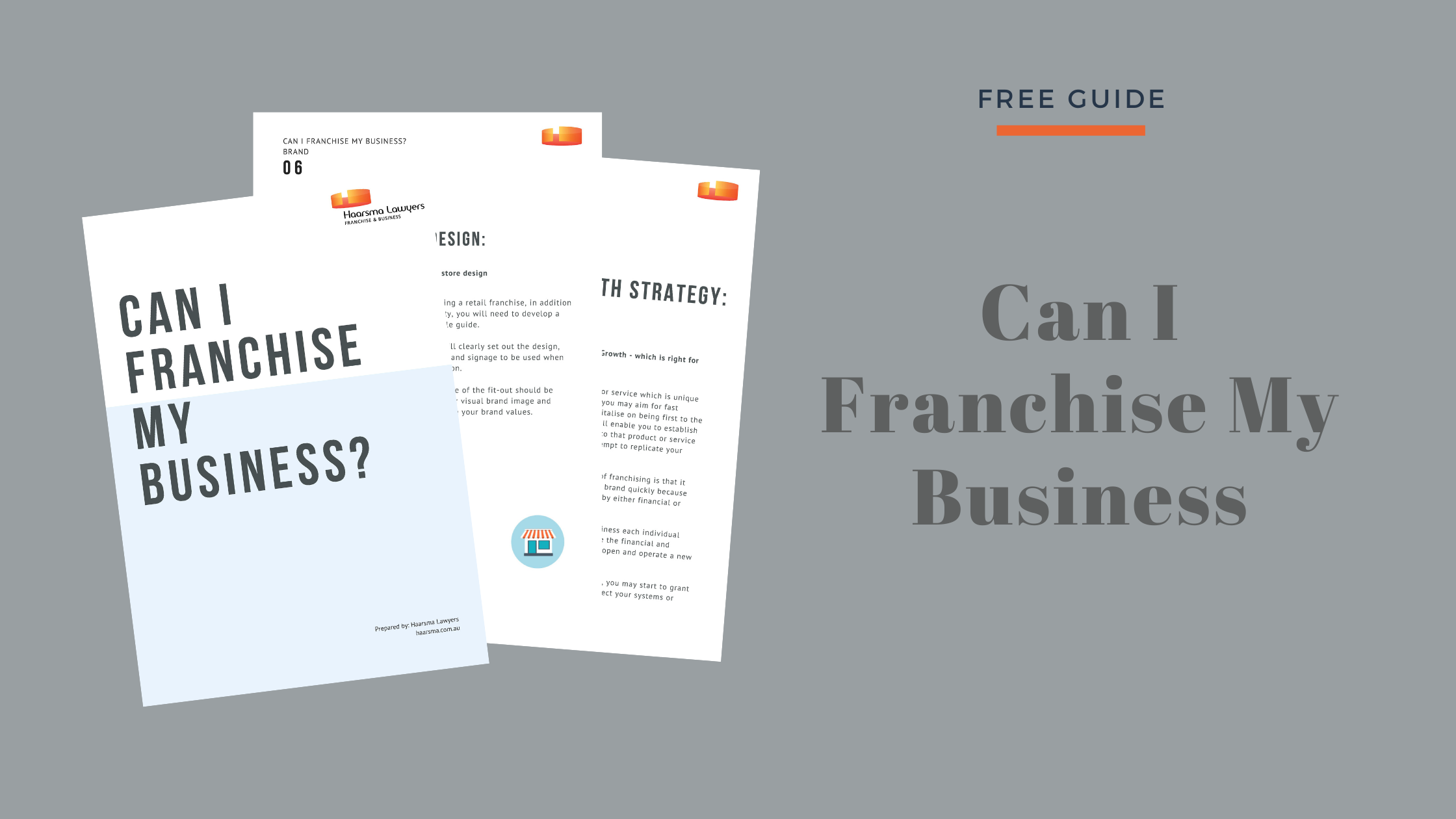 Disclaimer
The information in this article is general in nature and is not intended to address the circumstances of any person or other entity. Although we do our best to provide timely and accurate information, we do not guarantee that the information in this article is accurate or that it will continue to be accurate in the future.